12/27/13 (2) Alyssa Dixon & Cole Johnson, and Justus on FLIR.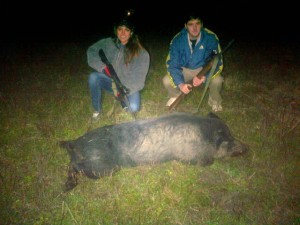 We went down the "roller coaster", then while everybody was still laughing, Justus called out a big boar running toward fence near duck pond.  We went fast and got behind him after cattle guard.  Very large boar, took many rounds to bring down.  Exciting chase, huge boar in one minute of hunting!  Later found another solo boar on E end of Sec B, Justus and Mike walked Cole out to him using monoculars and Mini-G.  Cole got behind him and then got to with 30yds and took him down.
12/26/13 (2) Mike Brown alone using 6.8.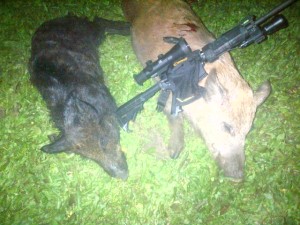 Again checking E end of B.  This time went down south fenceline.  Checking wind, I got around behind small herd.  One pig was close, had a limp as if hit previously?  Had to shoot him first, then move to rest of herd,  took biggest one next but he took a couple of shots.  Then I could hear the rest running past me but could not locate them in the scope.
12/25/13 (3) Cooper & Hunter Langham , Taylor Brown on FLIR.  Deer & Pigs again on E end of B-C.  Wind from south so came-up from Sec-C.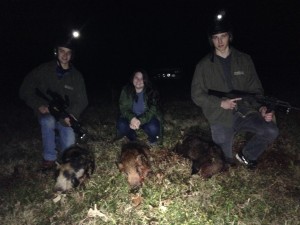 We were closing-in but green laser came on and they spooked and crossed the fence.  Went back to creek along Sec A then began creek run.  Fantastic luck, a small group emerged from creek just as we got there, we got between them and creek and got them on the run.  Exciting chase, finally got the cousins some pigs!
12/24/13 (1) Mike Brown alone.  Lots of deer and a herd of pigs on weeds growing E end of Sec B (where we had planted STA plugs in Oct).  He walked-up across S-side blocks and got closest one.  Others were right on fence and vanished.
12-15-13 (4) 22:00 Continuing on with some family fun, the Corcoran Family came along, allowing Daynon the chance to capture some more night vision videos clips of the hunt. Erin on the FLIR, and Justus and Paxton on the guns. We geared up in the cold weather and planned to get as much awesome footage as we could.
  We followed Crack House Trail onto the South road, when a large boar was spotted in the distant trees. We gained speed and gave chase but with some gun and laser malfunctions lost him. We gather our whitts, fixed a few details and trekked on in the cool, dark night. We went past the feeders and to the farms, we continued through the normal route with no sign of hogs anywhere we hoped that Creek Trail would deliver. Sure enough it did, almost and exact repeat of the last hunt.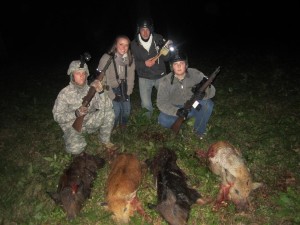 As we approached we saw a small herd of pigs coming from the creek to pass through the fields, waiting to see if they would make their move, we all watched as one after the next came from the brush and out into the open. We charged and survived a nice bumpy, crazy ride as we brought down four hogs; with Daynon capturing all of it on the Go- Pro with night vision rig. we rounded them up for a photo and then decided it was time to get back see the footage, and warm up. 
12-12-13 (12) 22:00 Family reunion this weekend brought quite the crowd. Jim and Justus on the guns, Paxton on the FLIR. Erin Wyldes, Daynon and Pierce in the back night vision spotting, and using the Go-Pro to try and capture some live footage. Brenna, and Jamie along with Trent and Mike in the cab. We pushed through the cold,  starting from the glass house checking the duck pond and Crack House Trail. But with nothing to be seen, we moved to Creek Trail.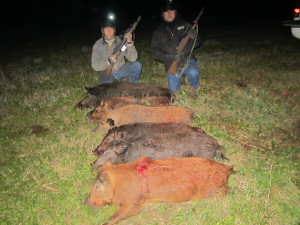 About halfway through the trail, a herd of pigs were spotted. We slowed and watched as they nipped at each other, and were making their way from the creek into the open. We charged and fired. Two dropped near each other, the truck claimed another and we were chasing two more. The Night Hawk helped out along with Jim' dog. He jumped out during the pursuit of the last hog, caught it by the tail and slowed it down while we had the chance  to catch up to it and finish it off.  Everyone  was excited as we gathered all of them for a picture.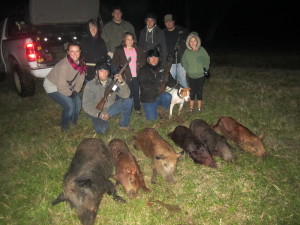 Although it was very cold, we continued on to the farms, because we have had some serious damage out in the Sections and we know they have been out there tearing up the crop. As we made our way through the farm we located a handful of them on the edge, we gave chase but by the time we made it near they had made it through the ditch and to the other side.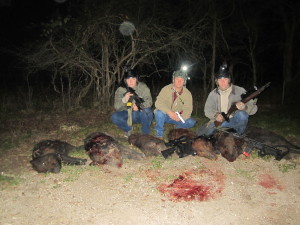 We rounded all the way through the farm and were following the South Road, when we came up on a nice herd under the feeder. We stopped, switched some gear, packed some extra and took off! It was one of the greatest chases we've had in a while. They scattered, some broke for the fence and were taken down. Justus took off on foot to take out the two that were struggling to get through the fence. After some back and forth to make sure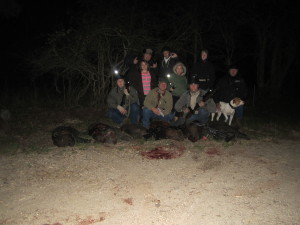 they were all taken care of, we grouped               together for another picture of a herd                 brought down. 
12-5-13 (4) 22:00 Four gentlemen from El Campo area made their way here for an exhilarating, cool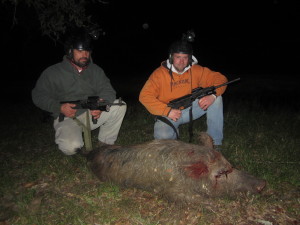 hunt; they really did a great job taking some hogs off the land. Travis Nichols, Ragan Holdeman, Lance Litwiller and David Giesel all loaded up at the Allenhurst Barn; with Justus on the FLIR and Paxton in the cab with Mike hunt; they really did a great job taking some hogs off the land. Travis Nichols, Ragan Holdeman, Lance Litwiller and David Giesel all loaded up at the Allenhurst Barn; with Justus on the FLIR and Paxton in the cab with Mike  and got set for a cold hunt starting out at the grass farm. 
  Not to long after they had begun, a 3 legged, large hog was spotted and chased. Lance LItwiller and David Giesel brought it down as they neared the South Road. They stopped by one of the houses to pick up Erin to come along for the ride, and night vision spot. They went straight on to creek trail from her house. And this route proved to be a great choice.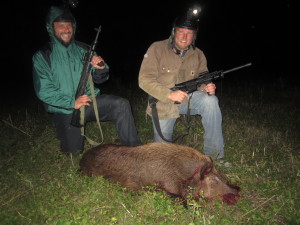 Per our favorite usual, Creek Trail always has something to sacrifice. We drove through almost the full length of seeing nothing, and having trouble with no moon out. Infrared lights were necessary for a lot of the trip. But surely enough, Justus located a hog and we gave chase. Travis Nichols and Ragan Holdemen, brought down a nice sized cinnamon colored hog.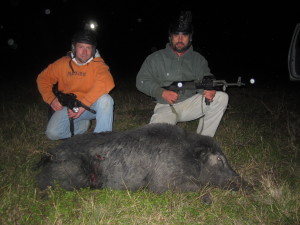 With all four men having a chance to bring down a hog we were slowly making our way through the rest of Creek Trail to the open fields and fence line that connect to South Road, when two more hogs were sighted in the distance. Mike brought the hog truck to life, blazing through the field to catch up to them.  We got the big sow down, and the other headed for section A on the farm. The shooters almost lost him once he crossed the fence line, but surely enough he did a summer-salt after taking one to the front.We posed for a picture, and the group decided to take him home for some tastey meat. What a chilly, but very fun night for all the crew.