3/13/14 21:30 (1+)  Visitors from Iowa made the 18 hours drive south to enjoy some warm Texas weather and hopefully get their hands a little dirty, hog hunting with the crew. Grateful to have them as they really enjoyed an exciting adventure with us. Our Northern  friends included: A-crew member Erin Wyldes' parents Bryan and Kathy Wyldes, Jeff Hamann, Mark Eigsti and Chuck Crow.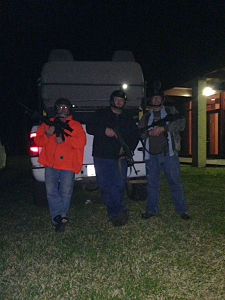 We hunted a few nights previous and only ran into on hog hundreds of yards away, who was spooked and made his way safely back into the mott on the South Road. However, the team was determined to get some action before their trip was over. They gathered a bunch of strawberry jello and diligently put it out at all the right stops. Thankfully it paid off well.
We started out somewhat early in the night, so in order to make sure all the night life had a chance to come alive, we start the Creek Trail. Justus Densmore driving, Erin Wyldes on the FLIR, and Paxton Densmore on the look out we made our way around the creek, and cut through the farm headed towards the fence line and the South Road.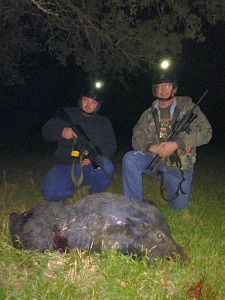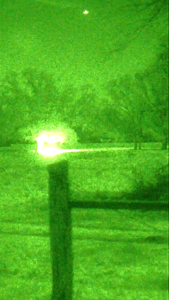 Once near the feeder and on the South Road, we were surrounded by cows when Justus spotted an outsider mingling with the herd of cows. Without a moment to think, safeties were off, bullets were flying and a large boar was brought down. Jeff and Chuck were ecstatic experiencing their first short chase and hog                                                                  kill.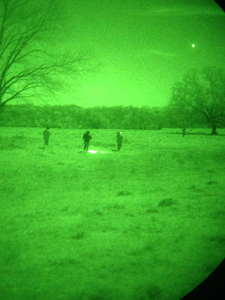 We continued the hunt toward the grass fields, and section C. With the wind in our favor, Mark Eigsty was able to make it to the fenceline of Section C and snipe a small herd of 4 hogs. He made impact with one hog, but it was lost in the mott.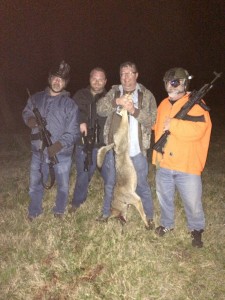 We turned and retraced through the farm. When on the South Road Justus and the crew spotted a coyote, and the epic chase began. Hitting about 40 miles an hour through cattle ground we bobbed and weaved chasing the coyote in the field, and he gave us a run for our money. The Night Hawk flew into action for back up, as one shooter jammed and another lost laser power repeatedly. With the rest of the crew holding on, a few ditches later, a lost hat, and                                                                      adrenaline pumping, the Night Hawk administered the                                                               coup de gras.