6-16-14 22:00 (1+) Thankfully the dry spell is over! A few visitors from Iowa were here to just enjoy the night and see if we could find anything after many hunts that came up dry. This hot muggy night turned into a fast paced chase and to our surprise the night hit action quickly. 
Bryan and Ben, shooters on the AK 47 and AR 15, equipped with the night vision helmets. Nicki in the back spotting with the hand held night vision and Erin in the FLIR. Mike taking the wheel and Night Hawk of course. We set out took a few practice shots, got accustomed to the equipment and began on Crack House Trail. With the day's warmth and the mugginess still in the air the contrast in the FLIR wasn't sharp and identifying things were hard.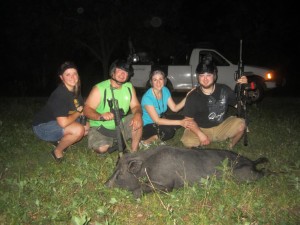 As we approached the South Road we passed a few deer, and got close to the feeder. A lone boar was sighted to the left in the field. And we gave way to an exhilarating chase!The safety's came off and shots were fired on the large boar. He was dropped and finished with the Night Hawk, as another was spotted running from the mott to the fenceline. We got a visual and tried to cut him off. He was hit but made it to the field and trees before the 6.8 could preform the coup de gras.     Ben and Nicki were new to the crew and were excited that we dropped a large black boar.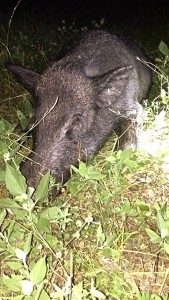 We finished the night taking the road through the field and surveying the end of creek trail. The crew was more than satisfied breaking the dry we had been through these past few months and our visitors greatly enjoyed taking part in it with the A Crew.
 
6/29/14 (3) 22:00-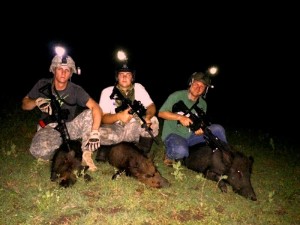 Justus, Paxton and Mike set out on a warm night with the A Crew. Shannon, Alyssa, and Erin. The guys hadn't been together for a hunt in a while with all of the summer activities so they took care of business that night, dropping 3 after and exciting chase.