JULY 2013 – (PFR 6:7; 20 kills) Continued to be amazingly good, but  I can see it is slowing down.  Streak ended at 28 consecutive successful hunts! July kills padded by Joe hunting solo after rain but overall is still too dry.  Since it hasn't been sloppy wet, they haven't been too interested in farms – yet.  97 kills so far in 2013.
7/27/13 – (0) Streak ends at 28!  Hunting for Justus' bday, but no pigs to be found.  First time with MUM – resolution is noticeably better than PVS-14? With IR lights is absolutely amazing clarity.
7/21/13 23:30 (2) Clayton Davis, Dawson Freisenhan, Paxton Densmore, Justus Densmore, Erin Wyldes, Shannon Brown.  Bright moon, not much activity despite rain that morning.  Pigs along slough E of Sec. B-C.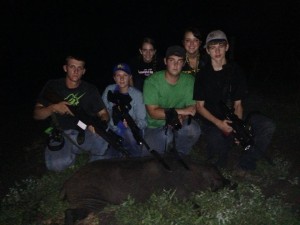 Guys walked-out to them, the pigs crossed slough, Clayton shot a sow w/6.8, Justus took backup shot w/M1A right behind him.  Nothing else on farms, we made the creek run and just as we were completing 3 small pigs crossed in front near Angel's barn.  We spun around and caught them before they could reach the creek, but one broke under the Live Oaks, the one we followed zig-zagged the whole time, ran us under oaks, we got him just as he neared the creek with a fusillade.  Small and quick, made for a really tough target!
7/17/13 22:00-23:30 (5). Joe Johnson went out alone after a big rain.  He stalked a herd on Sec C from the West, shot after they were spooked. He drove around to end of Sec. B in pursuit and shot across 3 fields (300y!) to drop more.  Still others ran West and he caught and shot them.  
7/15/13 23:30-01:00 (3).  Lance LeBouve, Andrew Straub, Brett Brietencamp, Paxton Densmore, Erin Wyldes. Of course we saw herd out in the fields, but far off. Surprisingly nothing on Sec. B&C, then sow & piglets on Super-Highway, but they got away. We drove along Jones' Ditch it was clear so I headed back to the fields and fence line across from South Road. A herd had moved close to fence so we got 6.8 for Lance and he hit 3.  We should have taken FLIR as we walked, 3rd pig jumped and Maggie was in the way so couldn't shoot.  Got pics for Lance.  26th consecutive successful hunt!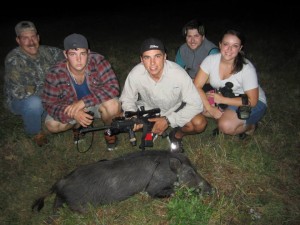 7/11/13 – (4) Joe Johnson. Went out, stalking on the farms using all of the gear, killed 4 pigs total but found on A, B, and C. 
7/8/13 23:00-24:00 (4) Kirby & Joel Dawson, Paxton on FLIR, Erin spotting.  Herd on the fields at the mounds, I gave Joel 6.8 and he shot one.  Sec B was clear, coming through Sec C from back, 3 pigs were running about block #35. Erin located with IR and I charged quickly.  Joel and Kirby shot quickly and got 2.  One pig was hard to finish as Paxton nearly emptied a mag on it trying, I even came up and added a round. Saw herd on Sec A approx #13, decided to go back to fenceline to have intercepting approach, but they spooked and got to ranch before we got there.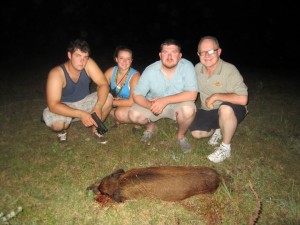 We went into ranch looking, then went North on center road and found big boar near trough.  He was running all the way, was a rough chase and shooters emptied mags while getting some hits, but he kept going.  I went to Night Hawk and has I pulled alongside, got a shot into him and he veered into side of truck and was hit by rear wheel.  I spun-around to find him still standing and put another 45 into him to finally drop him. 25th consecutive!
7/4/13 23:30 (2) Kristen Harris & Zane shooting. Paxton Densmore-FLIR, Erin Wyldes-Shotgun, Shannon Brown & Camille Watson in back.  There was a herd near Crackhouse Trail, we went back around lake so as not to run them to fence.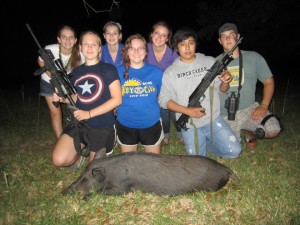 I had to help with Night Hawk but we got a couple.  Then on Sec B we were watching deer when pigs just walked-out right in front of us!  I turned-on lights too soon and immediately they cut under the fence and we lost them. 24th consecutive!