APRIL 2013 – (PFR 6:6; 21 kills – new April record!) Amazing how good it was, ended-up hunting a lot because we had many visitors. In a few fields, on the ranch, but not much on the farm. 
APRI – 21 (New record!)
4/27/13 (0) – Allison's Lifegroup.  Hunted as  a storm came in but did not find pigs (although I saw some outside entrance to ranch on the road)
4/26/13 22:30-24:00 (4).  Allison's Lifegroup.  Chase & McKenzie, found pigs 2 minutes after we began as we came up to Angel's barn they were just beyond cattleguard in The Park.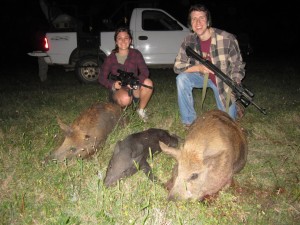 I accelerated around corner and through cattle guard, swooped through ditch and we were on a herd.  Massive sow, average sow, young sow.  Their reaction was priceless, they could not believe what was happening, exhilarating to say the least. 
  Two other guys took over and we made the circuit, came upon a solo on road through Eagle's Meadow.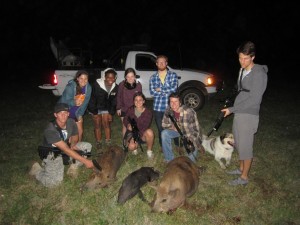 I went through ditch hard and fast as he ran for the creek, but they got him with 50 yds to spare.
4/18/13 21:00 (7). Incredible and unexpected hunt.  Julie and Kimber from Alaska, Joe Ros.  As we came up to sight of old greenhouse, spotted a huge herd in middle of field beyond live oaks, right out in the open.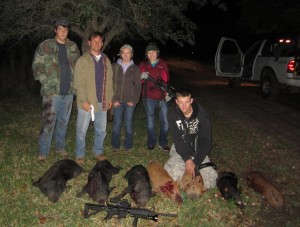 We had a good long chase, Justus got AR into play and I got Nighthawk into play.  I went through a mag and reloaded and still there were targets! 
  As we hit South road fence thinking was over they were still running up from dark so Justus took off with 45 and got another.  When he said he was out, I grabbed Night Hawk and ran one down and shot him between the eyes with what turned-out to be my last shot. Later Maggie and Paxton killed one with a knife.  Joe really wanted to show Julie a good hunt (she hunts bears, has been on Safari in Africa!) and it could not have been more spectacular.
4/5/13 22:30 (2)  Paxton's birthday, we had gone to movies, Shannon was driving in Night Vision.  I saw what I thought was herd of cattle reflecting on water of lake…but was a big sounder!  Had to chase in tight trees – we hit a ditch pretty hard and broke-out back window.  Did find 2 down.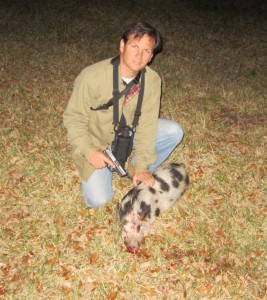 I had H&K and finished with it (first kill w/H&K!). After thinking awhile I realized I should have taken a shot then sent Shannon to South road!  They would have come right to us!
4/2/13 08:00 (5). Justus and Paxton had stayed at Glasshouse and were going to Allenhurst Sect-A when they saw a group, got two sows and 3 juveniles.
4/1/13 23:00 (3) Dominic Zimmerman, Robby Sheets.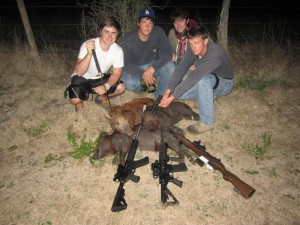 Corner from South road to Sect B. We watched a large herd through the fence line, after a few minutes they moved across fence and onto the farm.  We drove up quickly and some went into the field, then attempted to run back to fence – we got 3.  Before this we had stalked a solo in bluestem meadow but lost him in a mott.