9/26/13 23:00 (2+) Cole Johnson, Joe Johnson, Erin Wyldes. We were very sad to learn recently that Maggie the Wonderdog has lymphoma.  We are told that she is not going to be with us much longer – so we wanted to get her a pig to chew-on while she can still get out and hunt!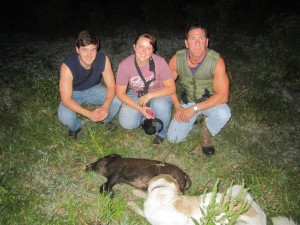 And when you just HAVE to have a pig, you take Cole Johnson on the hunt as he has a perfect record of always getting a pig each and every time he goes!
We saw a faint heat signature in tall grass that turned-out to be a large group of young pigs.  We aren't sure how many we got because we couldn't find them in the tall grass, but we did find one and Maggie enjoyed it thoroughly!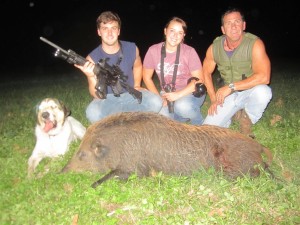 Having accomplished our mission, we were on the way in, fortunately Erin was still looking in FLIR and we found a big boar by the lake just a few hundred yards from Erin's house.  Cole made a great 75yd shot using 6.8 and dropped him on the spot.  Joe finished him with his USP compact.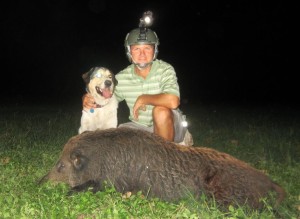 Maggie stayed and guarded her "kill" while we packed-up the gear until I finally went back and forced her to "load up".   Great night for Maggie.
9/13/13 23:00 (1+1 Coyote) Paxton Densmore, Justus Densmore, Shannon Brown, Allison Brown, Erin Wyldes.  Bright moon; saw small group on S-fenceline Sec B approx midway – made a run but they realized we were coming so I hit the lights.  Turned-out we were still over 100yds out and there was no shot while moving.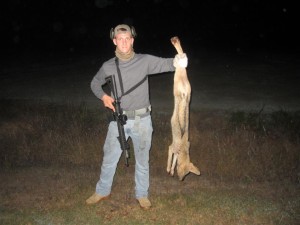 As we sat discussing tactics Erin Wyldes found something else on S-side Sec B which turned-out to be a coyote.  We went dark again and shadowed him moving East and he began to run as he realize something was up.
Paxton tried some moving shots but range was 75+ and we were going 30mph.  Coyote eventually came towards us trying to get AF and finally J connected.  He wasnt down yet and tried to run behind us but we stopped and drove backwards which put him at side of truck where J finally anchored him.  Erin & Allison actually managed to capture all of this on video!
We checked Sec-A then followed creek.  We actually heard pigs fighting down in creek so J&P went down into creek in elbow of The Park, found a way across, and got one.  They said herd was very large but hidden in tall grass.
9/6/13 00:30 (1) Paxton Densmore, Justus Densmore and Brandon Ruley.  In the thermal we watched a coyote across fence, he got called by another coyote on our side and came across fence but I wasn't ready with 6.8.  The guys walked-out after a pig way back into the trees and got one.
9/3/13 23:30 (4) Paxton Densmore, Brandon Ruley, and Mike Brown. I spotted a monster boar under an oak tree in Bluestem Meadow.  He was so big we thought was a cow, but his movements gave him away.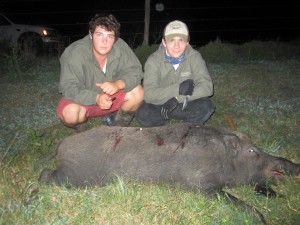 As we approached I believe he winded us and headed South to cross fence, but I caught him and the guys hammered him while passing in front of the truck.  We used a ditch bank blade for first time to keep the head/tusks.Later on Sec A we spotted group of juveniles in North ditch and walked-out.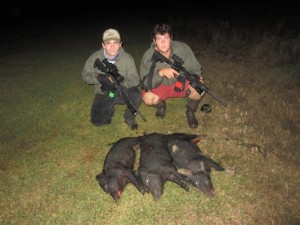 Even with Maggie barking they stayed and we got close.  I ran Garand but green Lasermax was a blob, very disappointing.  We got 3, including a nice offhand shot with 6.8 from BR.