From Mike Brown to those of you who have been hunting or had the privilege of meeting and      loving Maggie: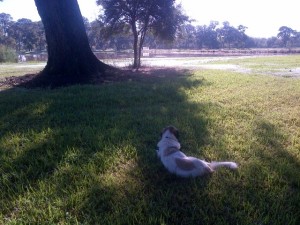 I wasn't going to do this because I didn't want to make everybody sad but, I wanted to share a picture of our beloved family dog and tremendous hunter Maggie. She was diagnosed with Lymphoma (dog cancer) a few months back. We have been spending as much time with her as possible, and taking her on a few last hunts through the month October.
  Here is a picture of Maggie on her last trip to the ranch. This is the very spot where she encountered her first pigs. She was just a puppy then, walking behind me near the duck pond in November 2008. We got 3 that day.